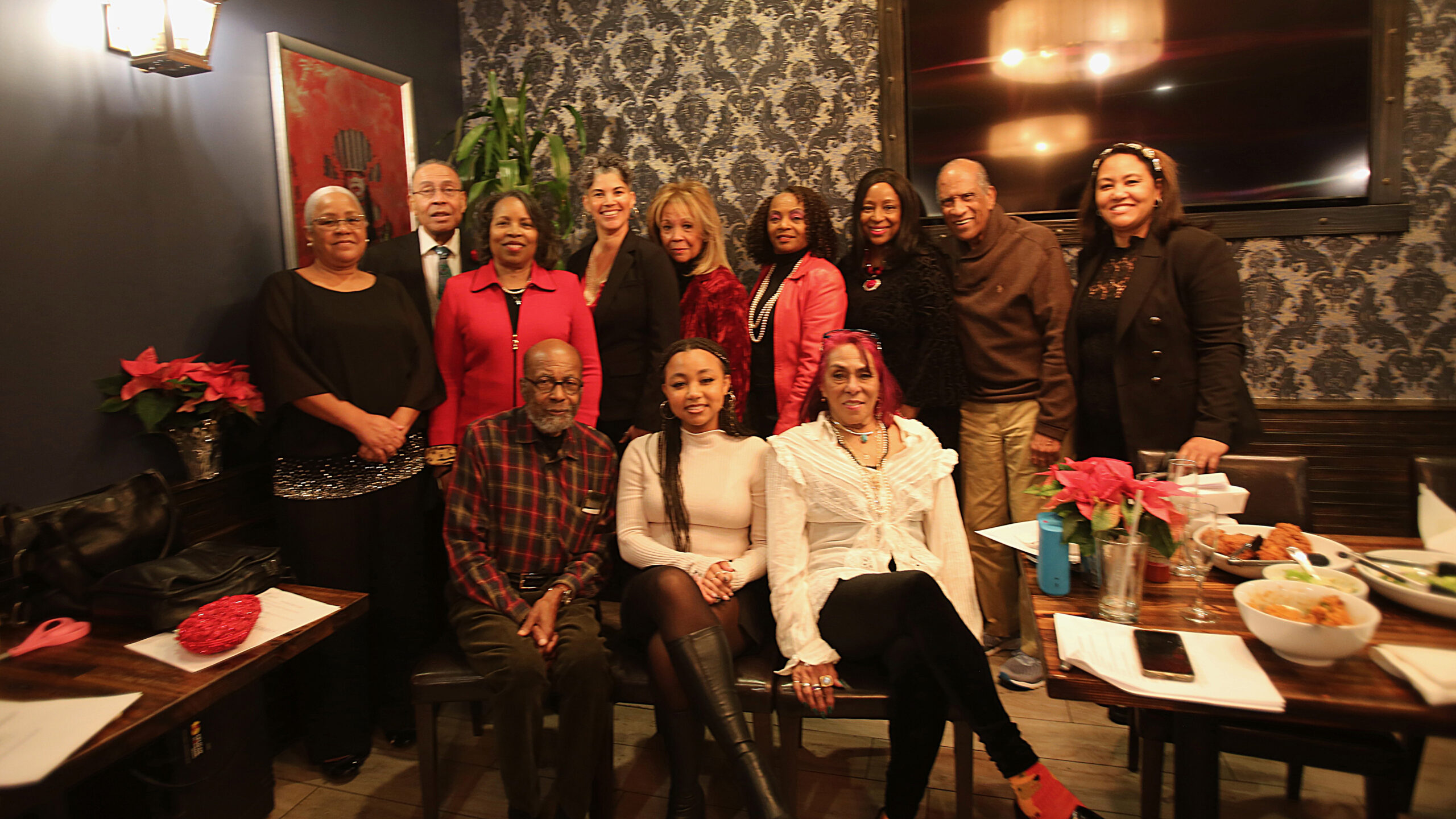 For the 2022 Holiday Celebration, the SF Board met for the first time in almost three years in person at the iconic L.A. landmark Harold & Belle's restaurant, to celebrate all of its remarkable accomplishments, fellowship and welcome its newest Board members into the fold.  In being mindful of the currently low, yet ongoing threat and concern regarding COVID19 (especially since the virus continues to disproportionately impact our communities), safety measures were communicated to members in advance, and included the availability of hand sanitizer, masks, and rapid COVID antigen tests. Guests were also asked to stay home if ill, in consideration of others. With this assurance and our indelible trust in one another, Board members showed up and showed out, ready to enjoy great food, even greater company, and be photographed in their chic holiday finery!
Vice President Pamela Stovall Hill greeted everyone as they arrived with her innate warmth, charm and hospitality, and showed guests to our beautiful dining area, which was tastefully and lovingly decorated in the holiday spirit with pink and red poinsettias and fragrant wreaths, by her daughter, Amorette Brooms of Queen Los Angeles. As holiday music played, further setting the mood, our Stovall Scholar, Zoe, handed out the agenda, and folks soon began to engage in pleasant camaraderie and lively conversation getting to know each other better, as they waited to have their portrait taken by President Lance Williams.
Once the taking of photos was complete, President Williams officially welcomed all attendees and launched into his thoughtful remarks, expressing appreciation on behalf of the Foundation, for everyone's hard work and generosity of time, ideas and commitment. He then provided a touching tribute honoring longtime Board Secretary Richard Washington, and on behalf of the Board, gifted him with a beautiful plaque commemorating his many years of service and dedication. Secretary Washington was quite touched and very surprised to receive this well deserved acknowledgement, and responded with a moving speech that had the room enthralled. Once this segment concluded, Vice President Stovall Hill was given the floor and shared a few personal memories of growing up and bearing witness to some of the wonderful work and legacy of her grandfather, Dr. Leonard Stovall (her Pop Pops), and expressed additional gratitude on behalf of the family to all, for continuing to uphold his vision and advance his life's work. Not an eye was dry, but in a good way.
Next: The Food! Board members were thrilled to see the Creole feast fit for kings and queens make its way onto our tables family style; this included Louisiana style catfish, fried chicken, jambalaya, red beans and rice, green salad, and for dessert, peach cobbler, sweet potato pie and bread pudding with caramel sauce! Although folks were tempted and tested by the exquisite sights and smells awaiting our taste buds, before digging in Board Member, Quaford Coleman, led us in a moving and heartfelt prayer, blessing the food and giving thanks for those who prepared it, and to all for coming together in such a cohesive and engaged way to do this very important work. As he concluded his beautiful message through prayer (and the congregants sang AMEN!), the room expeditiously took on a hushed (except for the occasional "mmm, mmm, MMMpff!!") tone for the next 20 or so minutes as we savored (ok, tore up) the tastes of the truly delicious nourishment for the soul.
Once the feast concluded but before folks got the " ïtis", President Williams led us in singing the full version of the beloved Nat King Cole holiday classic, "Merry Christmas to You". This was truly a special and memorable touch that all fondly embraced and enjoyed (and we soon realized we had more collective talent than some may have originally anticipated!). As the event and the to-go containers wrapped up, and everyone said their goodbyes and wished each other Happy Holidays, we eagerly mused on how we would (or could) top this event next year. You'd better believe that all us "kids from one to ninety- two", are already looking forward to it!